If you've got a foodie in your life, you might want a heads up on the best gifts for cooks! Here are my top five cool kitchen gifts!
If your sweetie loves concocting a luscious libation, this may be the perfect stocking stuffer kitchen gift. It has been the most popular item I recommend for the past 3 years! TONS of you buy them. And I'm not surprised.
These jumbo ice trays make huge ice cubs that to keep your cocktail the perfect temperature without melting quickly and watering down your drink! At less than $15 for a two-pack, you can't go wrong!
The demand for this one is huge! It turns your pressure cooker into an air fryer! Nice! All of the Instant Pot/Pressure Cooker owners have been very vocal about wanting a product that could crisp up some of the most popular Instant Pot recipes.
Now, thanks to the CrispLid, you can cook those chicken wings in 7 minutes, then put the CrispLid directly on your pressure cooker and crisp them up to your desired crispiness! Just think… crispy wings, potatoes, even creme brulee! This is hands down the best Instant Pot accessory around! (And YES, it will fit all 6 and 8 quart pressure cookers, including the Instant Pot.)
Pressure Cooker – Instant Pot and Mealthy
This has been one of the best gifts for cooks for the past 3 years! And for good reason – mouthwatering fall off the bone Instant Pot ribs in 30 minutes? Yep! Perfectly cooked pressure cooker rice that doesn't need babysitting? Absolutely! And Instant Pot Beans that go from dry to done in minutes with no soaking?? Yes, it can do that too!
There are hundreds of reasons the modern-day electric pressure cooker has revolutionized home cooking. Even if the chef in your life already has one, there's always room for another!
The decision in 2019 isn't whether you should get one, it's which one should you get! And if you're looking for one of the best gifts for cooks, I recommend either the Instant Pot Smart WiFi 6 quart or the Mealthy Multipot 6 quart.
Both are great and both should be considered I have both, so I know!) The Instant Pot Smart WiFi is perfect for those of you who are tech oriented, love to look at your phone to see exactly what your Instant Pot is doing at all times during the cooking cycle, want the ability to turn it on even from outside the home or while you're at work, and love to use Alexa to control your kitchen appliances.
The Mealthy Multipot is a fantastic value. It functions exactly like the uber-famous Instant Pot, but has some features included in the base price that makes it a tremendous value. Features such as the on-screen graph that shows exactly where you are in the cooking process, plus the egg, cake, and yogurt buttons all come on the base model priced at $100. Plus I personally think the buttons are easier to read. It's truly a great pressure cooker at a great price. And the customer service is fantastic.
Sous Vide Circulator (Say What??)
Now, don't go skipping this suggestion just because you're not sure what a Sous Vide Circulator actually is! Trust me on this… the foodie friend in your life will want one! And you'll be the one to benefit from all the perfect, amazing meals that come from using a Sous Vide Circulator.
So, what exactly is this fancy-schmancy sounding device? It's actually pretty basic. Food gets vacuum sealed in plastic bags (or these awesome reusable silicone bags) and submerged in a water bath for a certain length of time at the exact temperature you want.
And that's the key! This method of cooking is exactly precise! So, if you like your steaks cooked to a perfect 131 degree medium rare, set it to 131 and that's what you'll get! Like your chicken breasts moist and tender? Set it to 149 and forget it. All you need to do is wait for the timer to beep, sear it up in a pan for about a minute for a nice golden finish and you'll be treated to the most perfect food you've ever eaten.
Yes, it's that easy. And that good! And it is my very favorite way to cook food! If you're really looking for that unique kitchen gift to light up your loved one's face, this is the one! This is definitely one of the best gifts for cooks! (Maybe the best!)
I've got 3 choices for you on this one:
This is a great entry level sous vide circulator! It's got 750 watts of power and is put out by Anova – one of the best sous vide makers around! At about $100 it's a great way to get into the whole sous vide way of cooking.
This is Anova's high-end sous vide circulator for the home cook (Anova also makes a higher end professional one too!). With 1000 watts, it will heat up your water bath quickly and efficiently and hold that bath at the exact temperature you want. Plus it's got the digital controls right on the device so it's easy to use and adjust.
Another fabulous sous vide circulator! It's innovative, powerful, and just plain cool! Strong, and sleek and 1100 watts of power make the Joule a top choice of many home chefs. This one is for the techie lover in your life. It gets its sleek look by removing all of the controls from the device and you control it with your phone Very innovative!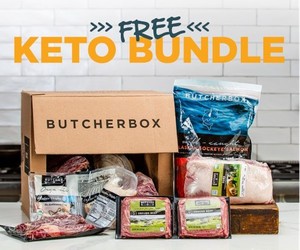 The gift that keeps on giving! I'm a recent convert to this one and love it! Butcher Box is a high-quality meat delivery service that provides only the best beef, chicken, pork, and fish products – all vacuum sealed and frozen and delivered directly to your door.
I've been a subscriber for a few months now and I'm completely sold! The quality truly is SO much better than what you can get in your store. And you can't beat the convenience. There are several plans to choose from and there's no commitment, so just cancel any time you want. (But you probably won't want to…) Give this one a shot and see what you think!
And there you have it!! My Top 5 Gifts for the Foodie in your life! Pick up one (or two or three?) of these and it won't be long before you'll be enjoying the benefits of your gift – eating all that great food! See?? It's a win-win! Happy Holidays!